Eaglercraft & EaglercraftX
Unfortunately, Eaglercraft has been removed indefinitely. While the project itself is still alive, we are not currently involved. Visit the official Reddit for more information.
Here's an old Eaglercraft FAQ by ayonull for archival purposes.
About Eaglercraft & EaglercraftX
Eaglercraft and EaglercraftX is a Minecraft 1.5.2 and 1.8.8 Javascript port, respectively.
Before Eaglercraft
In the early days of Minecraft, Mojang utilized Java applets to embed their game onto a browser. This allowed Minecraft 1.5.2 to be played on most web browsers, for free. However, Java applets became obsolete over time and wouldn't be allowed to run on modern browsers. This also marked the transition from Mojang's embedded web browser game onto executable files that can run on devices instead. A popular way even today is to use Internet Explorer to run the old Minecraft 1.5.2 applet, but it's inconvenient since you'd need to configure it a certain way.
A New Player Has Entered the Game
From 2021 to 2022, an individual going by the alias LAX1DUDE wanted to port Minecraft over to a modern web browser, by way of Javascript and HTML5. He wanted a challenge and devoted a lot of time reverse engineering the game. He eventually released Eaglercraft, based on Minecraft 1.5.2. At the time it only included Multiplayer, which was more than enough to get people interested in playing.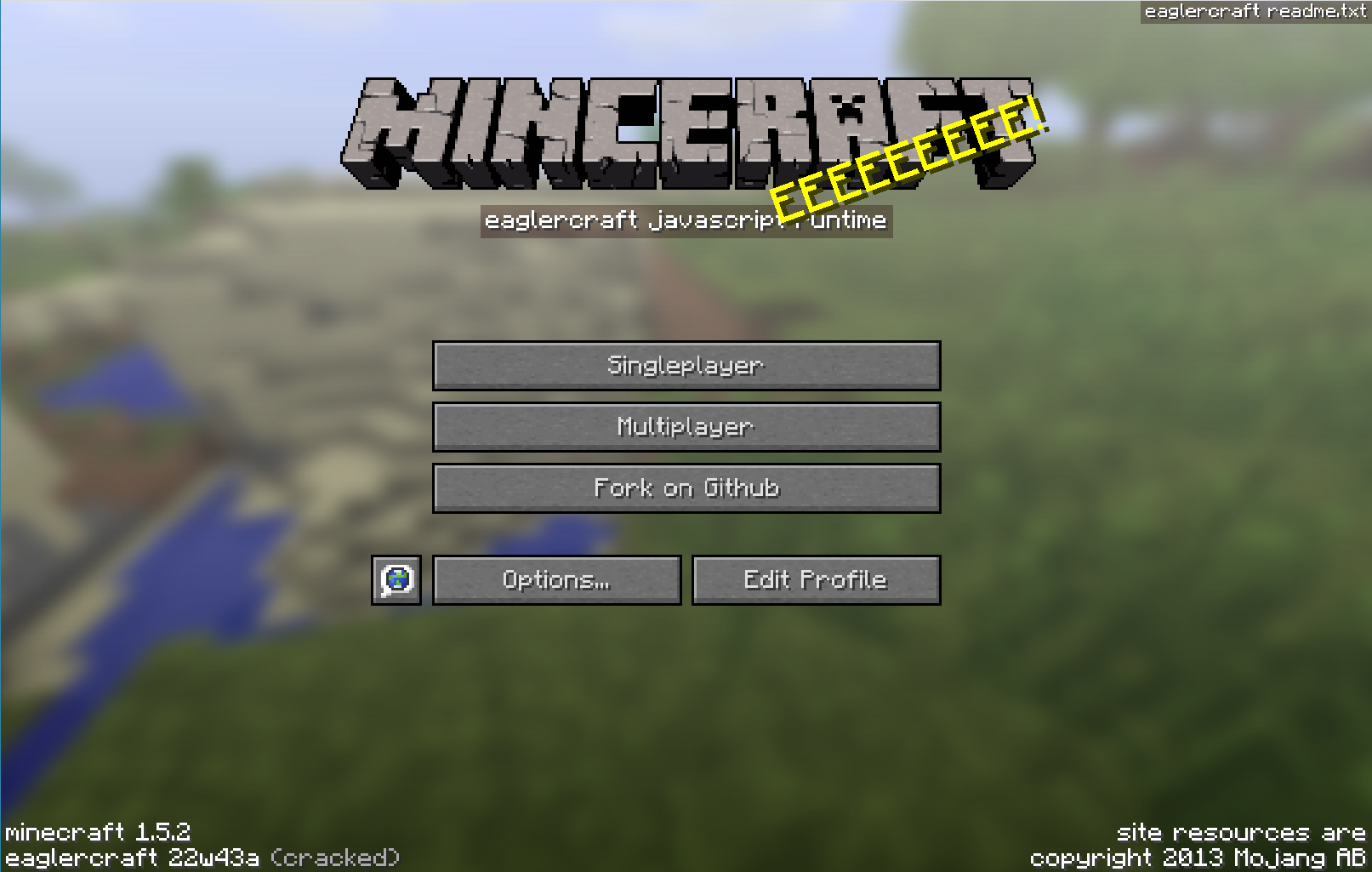 Its popularity spread on TikTok, where users would post how to play Eaglercraft on a low-end device such as a Chromebook. These clips would get millions of views, and promoted several popular Eaglercraft servers as well. This was especially useful in schools that deploy chromebooks and similar hardware. Peak hours of gameplay would be on school lunch break, and the several hours after school. The most attractive part of Eaglercraft was the ability to run and join a custom server, which had its own communities. Replits were also created, making it a breeze to start your own server.
For a while MinecraftForFreeX.com improperly embedded Eaglercraft, where we would have outdated versions, poor code, and limited features. As a result, LAX1DUDE made fun of us and we were quick to repsond and do things right. We quickly became one of the top websites for Eaglercraft.
In September of 2022, LAX1DUDE added singleplayer mode. Players could then play survival mode, creative mode, or hardcore mode with local worlds. While it was a nice feature, further development of Eaglercraft attracted the attention of Minecraft's copyright holders, Mojang AB (owned by Microsoft).
On November 15th, 2022, Mojang filed a DMCA takedown request on Eaglercraft's Github repository, Discord channel, and LAX1DUDE's official mirrors. This was a heavy blow to the Eaglercraft community, as it hindered develeopment and reduced the amount of players across the board. Many websites temporarily suspended hosting any Eaglercraft game or content.
EaglercraftX
As a nice Christmas gift, LAX1DUDE and ayunami2000 released EaglercraftX, based on Minecraft 1.8.8 on December 26th. He was more careful this time, as he only released the tools to decompile Minecraft on Github, instead of the actual game files. Additionally, the a new Discord channel under the guise of a Microsoft fan channel was created. These steps were a great attempt at preventing another DMCA request, or so it seemed.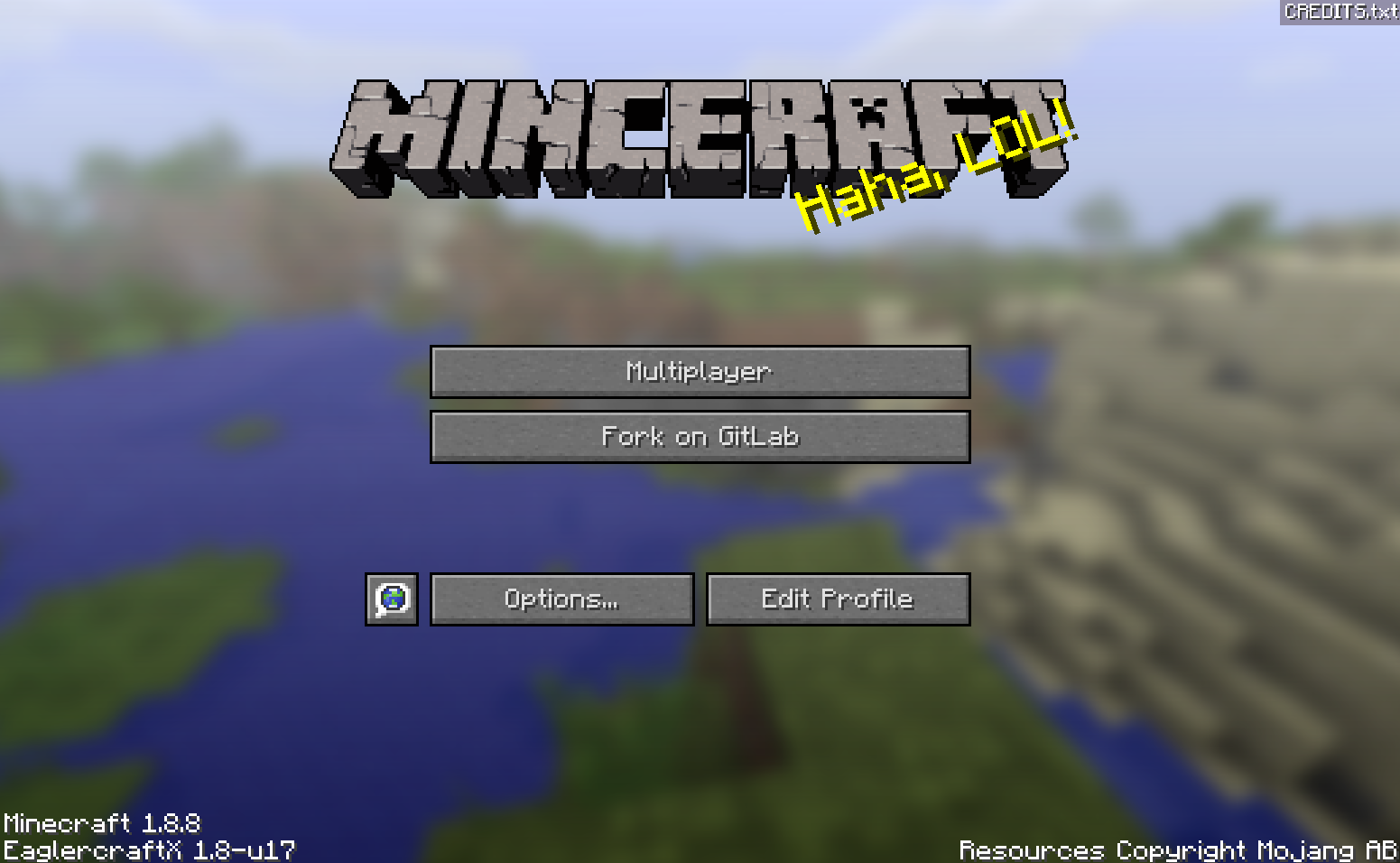 More Legal Issues
EaglercraftX's development was going along nicely, receiving updates every week or so. It also was hosted on Replit to allow easy server setup. However, Mojang had enough. From February to March of 2023, they filed mass DMCA requests, ranging from normal websites like this one all the way to Replit and Github. As you might have guessed, this essentially stopped LAX1DUDE from further development. Some servers used Replit and were shut down, and many websites stopped having Eaglercraft. Players had to find another website to play on, or dig up their offline mode game and create a LAN world. Consequently, many schools suffered great Wifi congestion due to the increase in traffic required to play on LAN servers. It got so bad that some schools actually had to shut down their Wifi.
As a final plea to Mojang, LAX1DUDE shut down his Github and posted a message asking them if they would like to collaborate and potentially work out a deal on what to do with Eaglercraft in terms of utilizing its source code in future Mojang projects such as a paid browser client. While highly unlikely to succeed, it was the only thing he could do to not waste all of the time he spent on Eaglercraft.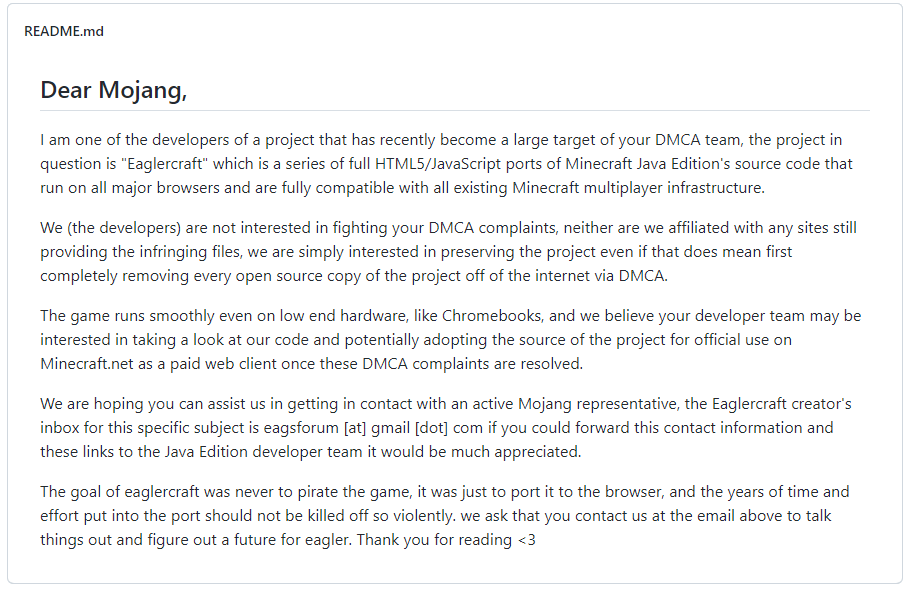 There are still opportunities to play Eaglercraft, but you should know by now that it's probably illegal. Although development has stopped, the game lives on behind the scenes. Rest in peace, for the most part.
More Games
Check out Minecraft 1.5.2 and ClassiCube.